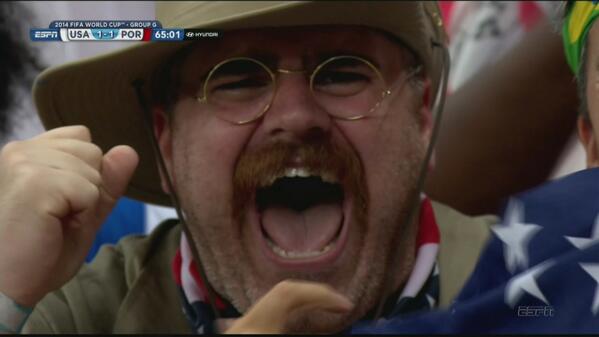 When the USA scored for the second time during Sunday's World Cup match vs. Portugal, international broadcasts caught a glimpse of a fan dressed as Teddy Roosevelt celebrating the go-ahead goal.
The image of the Rough Rider cheering in the stands was instantly shared on Twitter and Vine, but credit Yahoo! Sports
for tracking the man down.
His name is Mike D'Amico, and he told Yahoo! he was "super stoked" to find out he had he had become a Twitter sensation.
"I'll take your word for it until I get some WiFi," he said. "We're out in the Amazon. I don't have a whole lot of Internet here."
D'Amico explained that he wears the costume because "…it gets people excited. It gets people involved. When I'm trying to start a song in the stands, it's easier to listen to Teddy Roosevelt than some other guy in another shirt."
Bully!