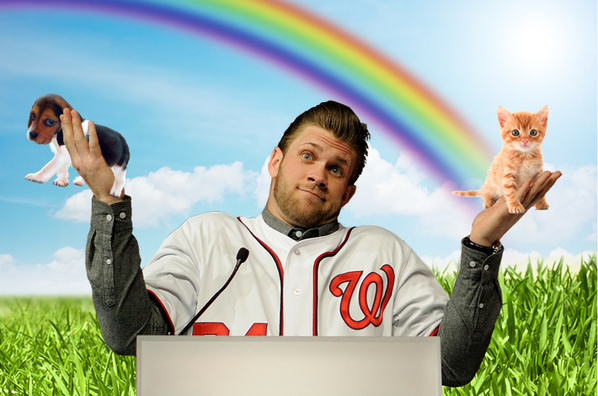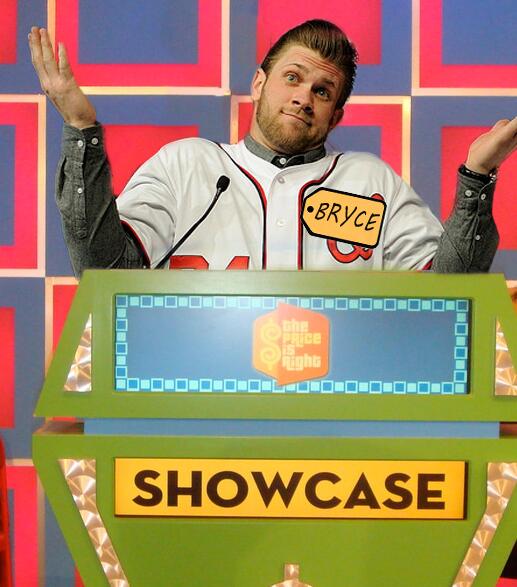 It's been a quiet winter here in Let Teddy Win World, but what better way to kick off the season and reignite Nats fan frenzy than a new Bryce Harper internet meme?
On the main stage at Saturday's Natsfest, I caught Harper reacting with a shrug as he was announced winner of the afternoon's Wheel of Fortune contest.
Today, Dave Brown at Yahoo!'s Big League Stew turned the photo into an internet meme, saying the photo was "sure to be iconic," and calling for readers to download the "up in arms" photo and manipulate it for a bit of informal fun.
Here below the original are just a few of the entries to have appeared on Twitter so far.
Facing Stephen Strasburg and Tyler Clippard on stage Saturday, the hyper-competitive Harper had figured out quickly that there was no "Lose a Turn" option on the game wheel, and so he kept spinning and racking up dollars, refusing to guess or give up control until he had amassed enough points to leave Strasburg and Clippard in the dust.
Nationals radio personality and Wheel of Fortune game host Dave Jageler declared Harper the winner, and Harper gave the shrug that will apparently live on forever…
Brown is accepting entries via Twitter at @bigleaguestew.
No word yet on what either the criteria or the prize will be for the chosen winner.